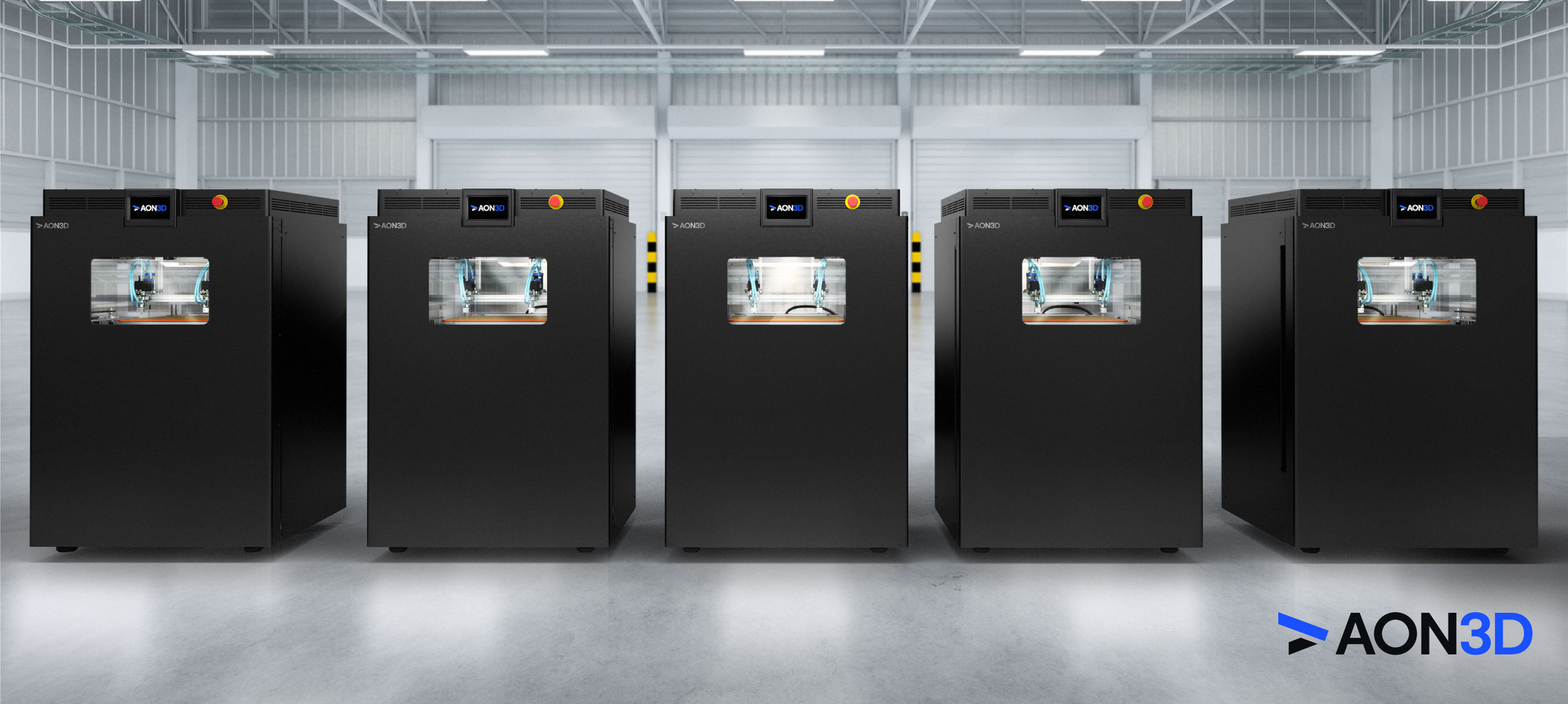 Westwind and AON3D
Westwind proudly partners with AON3D to provide customers with a high temperature industrial 3D printer to manufacture strong,
high-performance parts.
Featured Partner Products
---
The AON-M2 2020 Industrial 3D Printer
The AON-M2 2020 is an affordable, advanced additive manufacturing machine that is designed to repeatably print high quality parts with the widest range of thermoplastics on the market. From the actively heated bed and build chamber to the engineered convective flow path, the AON-M2 2020 is designed for precision thermal control you need to print the widest variety of thermoplastics. Print bigger, more complex parts with the massive build chamber and seamlessly print support material with the dual independent tool-heads.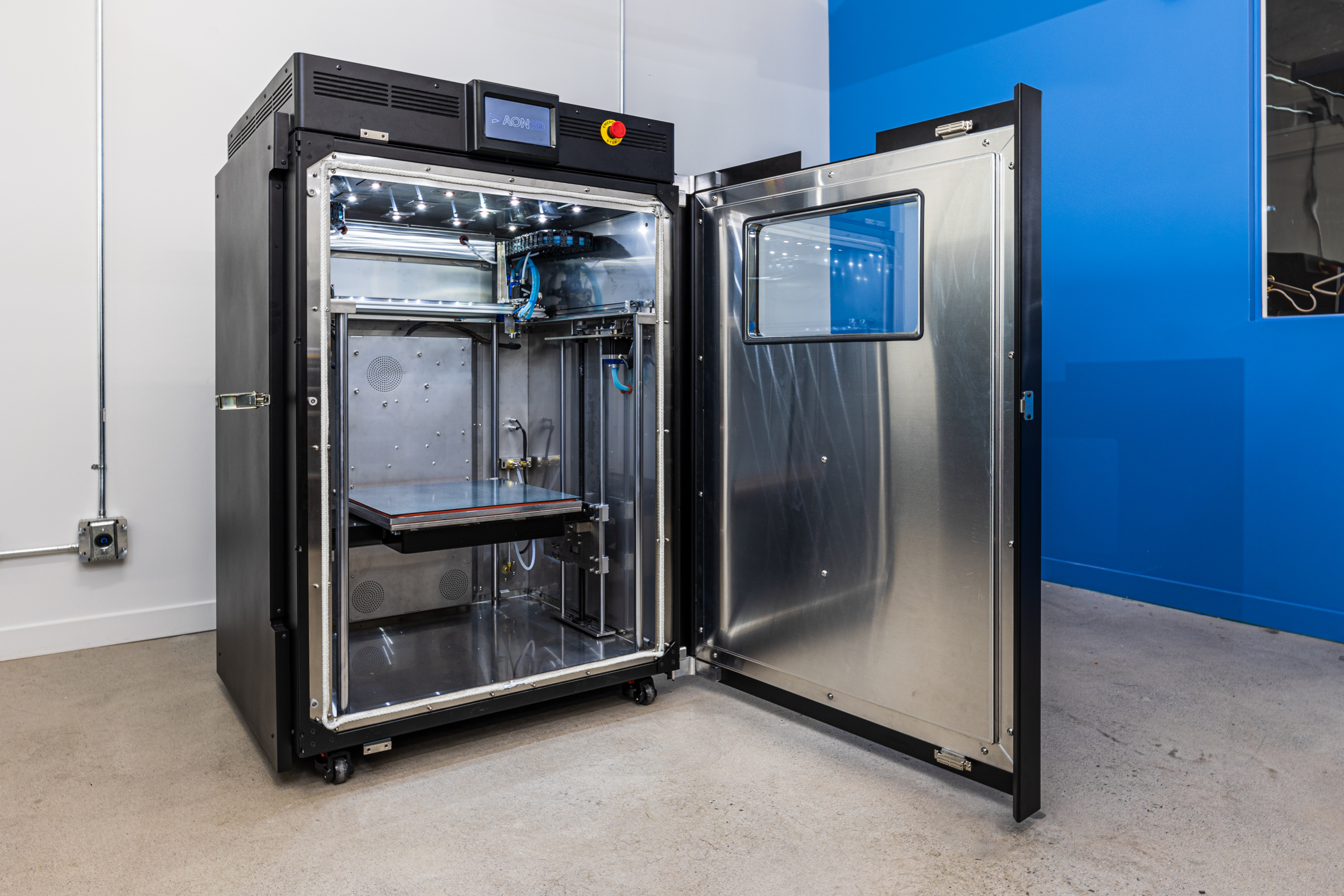 ---
AON3D Materials
PEEK & Carbon-Fiber PEEK

Polyetheretherketone (PEEK) is regarded as one of the strongest thermoplastics, offering a range of desirable properties such as: Extreme Thermal Resistance, Incredible Mechanical Strength, Broad Chemical Resistance, Bio-Compatible Grades, Strong Abrasion Resistance, High Crystallinity Possible

PEKK & Carbon-Fiber PEKK

PEKK (polyetherketoneketone) is a relative of PEEK in the PAEK family, and offers similar high-performance mechanical properties, as well as temperature and chemical resistances. Extreme Thermal Resistance, Incredible Mechanical Strength, Broad Chemical Resistance, Flame Retardant, Strong Abrasion Resistance, Great Printability.

Polycarbonate

Polycarbonate is an engineering-grade thermoplastic that offers exceptional strength, as well as excellent printability and heat resistance. It also offers: Excellent Thermal Resistance, High Isotropy, Strong Impact Resistance, Sterilizable Healthcare Grade, Translucent Grades, Improved Thermal Properties Compared to ABS.

ULTEM™ 9085 (PEI)

ULTEM™ 9085 (also known as PEI, or polyetherimide) is a versatile high-performance thermoplastic used in 3D printing. It provides: Extreme Thermal Resistance, Excellent Dimensional Stability, High Mechanical Strength, Lightweight Metal Replacement, Certified for Low Flame, Smoke & Toxicity (FST) Applications, UL 94 V-0 Flammability Rating.

PA (Nylon)

PA (Nylon) or the polyamides are a thermoplastic family with high strength-to-weight ratio and a low friction coefficient that make it ideal for a wide range of applications. Great Thermal Resistance, Excellent Mechanical Strength, Chemical Resistance, Low Fiction Coefficient, Good Abrasion Resistance, Flexible, Carbon Fiber & Glass Fibers Grades.

Aquasys® 120

AquaSys®120 Water Soluble Support is a versatile support material used alongside engineering-grade thermoplastics and can be removed with warm water. Stable Up to chamber temperatures of 120°C, compatible with wide variety of materials, low shrinkage, excellent adhesion, great printability.
Westwind works with innovators in additive manufacturing so you can accomplish more for less cost!